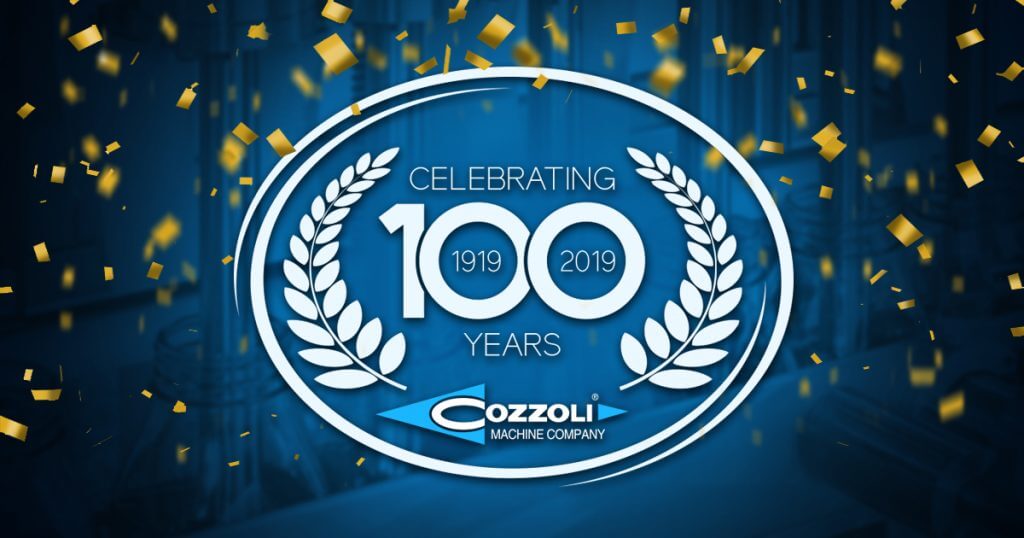 Cozzoli Machine Company Celebrates its 100 year anniversary.
Somerset, NJ: With 2019 officially underway, this year marks the 100 year anniversary of Cozzoli Machine Company.
From its humble beginnings in a 1,200 Square foot building in Plainfield, NJ, Cozzoli Machine Company has grown to become an international leader in the bottle filling and packaging industry. 100 years later, CMC now resides in a 100,000 square foot facility in Somerset, NJ
On April 5th, 1919, Frank J. Cozzoli Sr. founded the Cozzoli Machine Company, Originally named Modern Machine & Tool Company. The company started out as a machine shop for engineering companies, but soon began producing its own machines. One such machine was an award winning fruit press, which gained acclaim at the International Exposition in Brussels in 1926.
During the 1930's, Modern Machine & Tool had grown and began manufacturing machines for the pharmaceutical industry all around the world.  The machines began to be called "Cozzoli" machines, and in 1955, the name was officially changed to the "Cozzoli Machine Company".
Over the next few decades CMC would continue to grow, and in 1983, purchased MRM/Elgin. MRM/Elgin was a producer of automatic filling machines for the Food, Cosmetic and Industrial industries. With CMC being focused mainly on Pharmaceutical machines, MRM/Elgin would prove to be a great addition and expand the business across multiple industries.
From the first time I began working for my father and Cozzoli almost 50 years ago, I knew I was part of something special. I'm proud to be part of a 100-year-old family business, being able to watch it grow and evolve over the years. I'm also deeply thankful to the employees who, over the decades, helped shape our success. And, I'm equally grateful to our customers for joining us on this journey and in many ways leading it.

~ Joan Cozzoli Rooney, President of Cozzoli Machine Company
Today, Cozzoli Machine Company supplies and services a full line of precision custom packaging machinery and systems for cleaning, sterilizing, filling and closing applications. Our products are sold to the pharmaceutical, cosmetic, biotech, food, chemical and beverage industries all around the world.