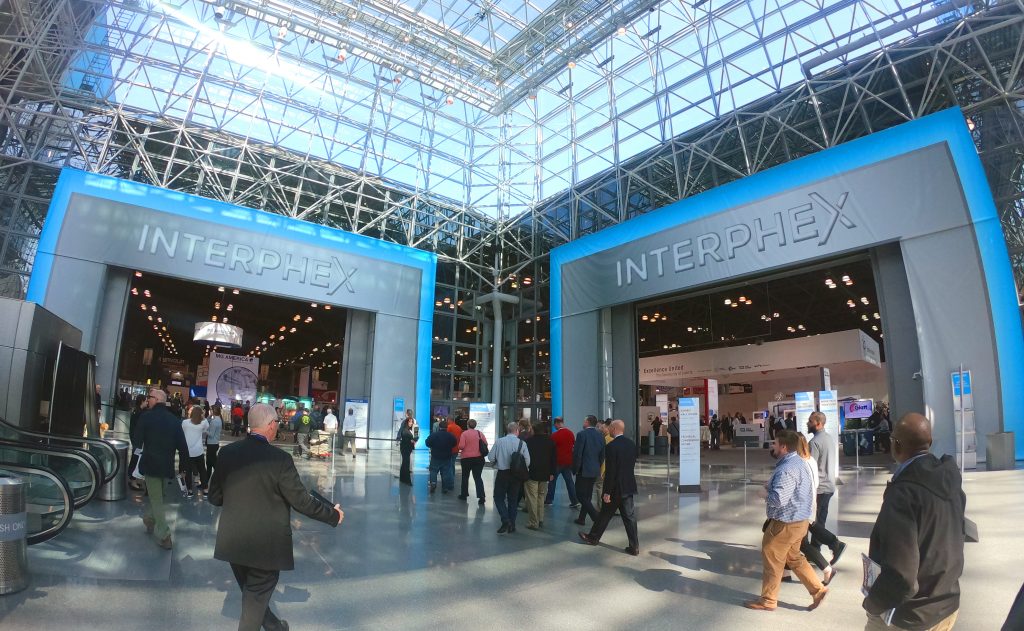 Interphex 2019 – New York, NY
On April 2-4 Cozzoli Machine Company was one of the over 600 companies exhibiting at the 2019 Interphex show in New York, NY.  With more than 10,000 attendees, this year's show was one of the largest on record.
We want to thank everyone who stopped by our booth this year. It was great seeing some of our current customers as well as some potential future customers.
With Interphex being the first trade show of our 100th year, we were proud to unveil our new tower graphics, showcasing our 100-year anniversary logo. These new graphics measure 5 feet x 7 feet and display our 100-year anniversary logo on all four sides of our 20-foot tower.
At this year's show, we showcased the following machines.
RPF – Rotary Piston Filler
Accommodate a wide range of containers and products of most viscosities at high production speeds of 600+ per minute. The overhead driven pistons feature fine fill piston adjustment, achieving ±0.5% fill accuracy. Cylinders and pistons are easily removed for cleaning or changeover to other sizes.
RFPC – Rotary MonoBlock
The RFPC series can handle various container shapes and sizes and a wide range of products from aqueous to heavy oils, suspensions and creams. RFPC models permit pre-programming container size and fill volume with visual on-screen data and diagnostic reporting. This machine can be equipped with 1-4 nozzles and is capable of filling up to 200 vials per minute with a fill accuracy of +/- .5%.
F400X – Tabletop Filler
Perfect for low production rates with high accuracy requirements. Fills aqueous solutions to light oils. This product is shipped fully assembled and ready to use. Can fill up to 50 containers a minute, depending on the operator, with accuracy of +/- .5%.
HS1 – Ampule Sealer
This hand sealer will tip or pull seal your ampules, then flame polish the seal. This machine is ideal for lab or small scale production facilities.
GW – Vial and Ampule Washer
This high production batch washer features user programmable wash cycles with coded access and direct loading from shrink-wrap packages. Handles various media including sterile air, water and steam. This washer can handle vial and ampule sizes from 1ml to 500ml with speeds up to 10,000 containers per hour. Changeover is quick and easy and the GW Series is exceptionally low maintenance
We had a lot of fun at Interphex 2019, and we are looking forward to seeing everyone again next year!
About Interphex
For 40 years, INTERPHEX has proven to be the place to find all of the State-of-the-Art Solutions you need to Cost Effectively Develop and Manufacture Quality Product. INTERPHEX is the premier pharmaceutical, biotechnology, and device development and manufacturing event where you can "Experience Science through Commercialization". Based in New York, INTERPHEX brings over 10,000 global industry professionals and 625+ leading suppliers together to "Learn It, Experience It, Procure It" through a combination of no cost technical conference, exhibits, demonstrations, and networking events to leverage quality, efficiency and cost effectiveness in today's ever-changing global market.